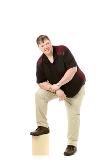 About Trevor Thurlow
Ever since May 2020, Trevor has been writing, shooting and editing a mini-series that will eventually air on YourTV Ottawa Valley, as well as be available for streaming online, called We Are The Generation, that takes a look at the events that have transpired over the last 24 months, and compares that to prophecies that, in some cases, were written up to 5,000 years ago.
During the 2020-21 Covid-19 pandemic, Trevor has been busy with transfers ranging from VHS and Betamax to DVD to expanding to Super8 and Regular 8mm film to 1080p High Definition transfers to USB or Hard Drive. And Trevor has more plans for the future.
In 2019, Trevor released online MicroMV The Smallest Videotape Ever, which he hosted, produced, shot and edited. (which you can see below)
On June 30, 2019 Trevor was the camera operator on the AUDL.TV broadcast of the New York Empire vs. Ottawa Outlaws discus game.
On April 14, 2018 Trevor was the recipient of the Ontario Volunteer Service Award for 10 years of Volunteer experience with YourTV (Cogeco).
In December 2018 Trevor was a camera operator on the broadcast of A Child Is Born: Christmas Play. In November 2018, Trevor was once again Santa's Cameraman when he shot the 2018 Pembroke Santa Claus Parade of Lights for YourTV Ottawa Valley.
From 2017 to 2019 Trevor Produced, Hosted, Shot and Edited the 2017 - 2019 Broadcasts of the Petawawa Santa Claus Parade (which you can check out below). Should the 2021 parade take place (the 2020 parade was cancelled due to Covid), Trevor is planning to once again produce and host the TV broadcast.
In September 2017 Trevor helped YourTV record an episode of In Conversation With...Jamie Bramburger that featured Merilyn Simonds, the author of the 1996 Governor General Non-Fiction Finalist-nominated book The Convict Lover.
In December 2016, Trevor Thurlow was the video producer, camera operator and editor behind the hugely successful broadcast of the 2016 Singing Christmas Tree that aired on CogecoTV Ottawa Valley to huge reviews from numerous people within the Ottawa Valley. The broadcast was produced by Trevor Thurlow Productions in co-operation with the Pembroke Pentecostal Tabernacle and aired on CogecoTV Ottawa Valley.
On March 12, 2017 Trevor once again helped CogecoTV Ottawa Valley in shooting the 2016-2017 Season Finale of the CCHL Pembroke Lumber Kings as they defeated the Smiths Falls Bears. In September 2017 Trevor was also a camera operator on the 2017-2018 Home Opener of the Pembroke Lumber Kings, a game that featured many challenges, the main one being fog on the ice, as the Pembroke Memorial Center (PMC) is not an air-conditioned facility, and with an outside temperature of around 27 degrees Celsius, and a humidex pushing the temperature into the mid-30's, these conditions led to several very foggy shots.
December 2015 saw Trevor hosting the 10th anniversary documentary of the Pembroke Santa Claus Parade going to a night time parade that aired on TVCogeco Ottawa Valley. Trevor also shot and edited the documentary.
In October 2010, Trevor shot a Pembroke Lumber Kings game with TVCogeco that featured, at that time, future-NHL player Matthew Peca. Matthew Peca made his NHL debut during the December 28, 2016 Tampa Bay Lightning game as a member of the Tampa Bay Lightning. Besides Peca, Trevor has also shot former-Calgary Flames player (1996-1997), Dale MacTavish (current owner/Coach of the Pembroke Lumber Kings) and (as of November 21, 2019) current-Toronto Maple Leafs coach & former-Tampa Bay Lightning player (2000-2003) Sheldon Keefe (former owner/Coach of the Lumber Kings).
June 14, 2016 saw Trevor Thurlow operating the main camera at the Jason Blaine 3rd Annual Celebrity Charity Golf Classic: PMC Night With The Stars Fundraiser Gala Featuring Jason Blain, Jason McCoy & Dallas Smith; once again the gala was shown LIVE at the Pembroke Memorial Center. This was the first year that the show was taped in 1080i High-Definition 16:9 Widescreen, and aired on CogecoTV Ottawa Valley in 1080i on August 24, 2016.
On June 16, 2015 Trevor Thurlow was the main camera operator on the TVCogeco Ottawa Valley broadcast of the Jason Blaine 2nd Annual Celebrity Charity Golf Classic: PMC Night With The Stars Fundraiser Gala featuring Jason Blaine, Tim Hicks & Chad Brownlee; the Gala was shown live at the Pembroke Memorial Center (PMC), but then taped (in 4:3 480i Standard-Definition) for airing over the Canadian 2015 Thanksgiving weekend. Since 2005 Trevor has worked on many projects with both TVCogeco North Bay and CogecoTV Ottawa Valley (TVCogeco Ottawa Valley, TVCogeco Pembroke); in 2015 he directed the February 22 LIVE broadcast of the Central Canada Hockey League (CCHL) Pembroke Lumber Kings vs. Kanata Lasers game, was a camera operator on the November 23 broadcast of Pembroke Curling and March 12 LIVE broadcast of the OFSAA (Ontario Federation of School Athletics Association) Playoff Finals broadcast. Trevor also recently Produced, Shot and Edited an Easter Special, entitled Behold The King: An Easter Special that aired on TVCogeco Ottawa Valley over the 2015 Easter weekend. On April 13, 2015 Trevor again helped Cogeco, as the Play-By-Play Camera Operator, to produce it's broadcast of Game 2 of the CCHL Art Bogart Cup Finals featuring the Carleton Place Canadians vs. Pembroke Lumber Kings, LIVE from the Pembroke Memorial Centre in Pembroke, Ontario. For Christmas 2015 Trevor produced and shot 2 Christmas specials that aird on TVCogeco: the first being a retrospective documentary on the first 10 years of the night-time Pembroke Santa Claus Parade Parade Of Lights. The second special was a religious message that aired between December 23 and December 27, 2015. On March 15, 2016 Trevor shot the LIVE broadcast of Pembroke City Council.
In November 2014 Trevor was the Community Producer and Right Camera Operator on the TVCogeco Christmas Special: Uturn: Wise Men, Shepherd's, You and Me: We Will See Him: the special was aired multiple times throughout the month of December 2014.

Trevor was also a camera operator on more than 250 episodes of the TV show From The River that was produced by the Bill Prankard Evangelistic Association in Ottawa and was aired nationally across Canada on Miracle Channel, CTS and Vision Network, as well as being aired on Cornerstone Television in the US and The God Channel in Europe. While on the show Trevor had the privilege of being the camera operator on a number of interviews with a number of high-ranking people, including the then-Israeli Ambassador to Canada, Alan Baker, and then-Malaysian Ambassador to Canada Dennis Ignatius.
In 2015 Trevor has also shot a couple of web videos for Canadian Tire.
Trevor Thurlow is a graduate of Canadore College's "Broadcasting-Television and Video Production" course, where he had the privilege to meet and co-produce a show that featured the late 1972 Canadian Olympic Skier Roseanne Allan .
From 2011 to 2014, Trevor co-produced, shot and edited four different 6-part mini-series for Calvary Baptist Church's Soccer Camp in Pembroke, Ontario. He also acted in a few episodes and did voice overs for other parts.
Currently Trevor is also in the midst of editing Jacob's Well, a documentary that he has produced and shot about a team of men who, in January 2015, went on a missions trip to Burkina Faso to bring water to the people of that nation by drilling wells. Trevor hopes to release Jacob's Well sometime in the near future.
The above video is a sampling of my work. Please be advised that this video does contain material that I have shot for other organizations, and as such any copyright that those organizations hold over those works belongs to those organizations, and not Trevor Thurlow Productions or Trevor Thurlow. This video is designed to showcase my talents as a camera operator, video editor, producer and director.

Trevor Thurlow is also an actor. You can see his acting credits at www.trevorthurlow.com