S-VHS or VHS? Both formats look exactly the same; even their camcorder tapes are the same.

Canada's most affordable and flexible S-VHS/D-VHS To USB service.
A personal service by a videographer with 10 years of video experience.
Costs just $15 per video hour for USB transfers
Costs just $20 per video hour for DVD; extra copies are just $12. Lowest professional transfer prices in Canada, but with the highest quality.
Turnaround time of 2-4 days for 6 hours or less. 6.5 - 10 hours require up to 7 days. More than 10 hours will require additional time.
S-VHS was used by many wedding videographers from the late-1980's up to the early-2000's.
D-VHS was out from 1996-2007 and recorded 480i/480p/720p/1080i video to high-quality S-VHS tapes. Some people backed up their DV and HDV videos to D-VHS.

NTSC/PAL/SECAM SVHS, SVHS-ET and SVHS-C to DVD or Computer file.

Resume reels of actors, camera operators and producers provided for TV, movie industries and casting agencies.
Verbatim AZO DVD's used for all DVD transfers.
Check out the "About Trevor Thurlow" page for samples of D-VHS, SVHS and SVHS-ET video transfers, as I have used some SVHS and SVHS-ET tapes to record my community cable channel work.
D-VHS conversions are currently not available, as I am having issues getting my decks repaired. I hope to offer this service once again very soon.
S-VHS
(For regular VHS and VHS-C transfers please click
here
)
From 1987 to the early-2000's, SVHS was the preferred format by wedding videographers around the world due to it's tapes being able to record 2 hours of video over 3/4" U-Matic S tapes maximum 30 minute time. SVHS was also used as an acceptable training format by many colleges and universities due to it's tapes being less expensive than Betacam SP, while still using VTR's that gave student's the ability to learn how to use a broadcast-level VTR. Even a few local and independent TV stations used the format for news acquisition.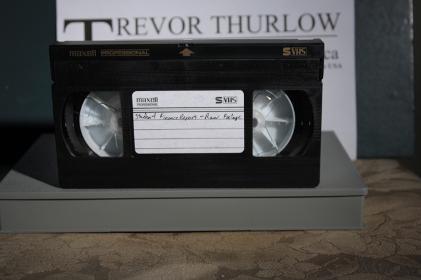 Here's An Actual SVHS tape. As you can see, aside from the SVHS logo in the upper right, the tape looks like a normal VHS tape, just with the large reels (although SVHS tapes with the small reels have been seen), and it is possible to record on a SVHS tape in a consumer VHS recorder.

So what is the resolution of SVHS?
(Please click here for more on resolutions and the Kell Factor.)
SVHS used a bandwidth ranging between 5.4 and 7.0 MHz to record it's luminance, with chroma being stored at 629 kHz; depending on your recording speed (SP, LP, SLP) the slowest speed (SLP) used the smallest amount of storage (5.4 MHz). With SVHS the information was stored on tape in a single composite signal, while during playback the signal was converted to a component signal that sent the luminance and chrominance in seperate streams. When compared to Betamax (3.5 – 4.8 MHz luminance; 688 kHz chroma) and its improved version (Super Betamax 4.4 – 5.6 MHz; 688 kHz Chroma) SVHS was the superior technology in terms of luminance. When compared to Extended Betamax (6.8 - 9.3MHz, 688 Chroma), SVHS was the inferior technology.
SVHS was also used in the professional world by a few independent stations, but most professionals that used it were in the wedding video business, since it was a cheaper alternative to Betacam SP that provide a better picture with which to edit with (and the majority of the time, the final version of the wedding video was delivered on regular VHS). Broadcast SVHS tapes were limited to a maximum time of 2-hours in SP mode, however, in the late-90's and early 2000's many prosumer and consumer SVHS machines were released that could record video that was just a little softer than normal S-VHS tapes, but could record SVHS information on a regular VHS tape. Both VHS and SVHS tapes use ferricobalt particle tapes to store information, however SVHS's ferricobalt is formulated to allow SVHS to record the higher magnetic frequencies required for its luminance channel.

What is The Difference Between SVHS and SVHS-C?

Just like with VHS and VHS-C, SVHS-C is just a smaller version of a SVHS tape, containing less recording time.
D-VHS
What is D-VHS?
D-VHS originally stood for "Data-VHS", but was then changed to "Digital VHS". D-VHS is DIGITAL.
D-VHS was first released in 1996 as a Standard Definition consumer recording format that could hold up to 24 Hours on 1 tape, In 2002 JVC introduced the ability for D-VHS to record 480p, 720p and 1080i HD video. Some people used D-VHS to back up their Mini-DV, DVCPRO and HDV recordings, as they could transfer the footage from those tapes to D-VHS via Firewire 1394/i.Link as a PURE Digital copy, and then they could reuse their Mini-DV and DVCPRO tapes. However, D-VHS decks also had RF (for recording off-air), Composite, and S-VHS connectors that allowed people to transfer their analog recordings to D-VHS. They could archive S-VHS recordings on D-VHS via S-Video and have a High-Quality copy that was virtually identical to the S-VHS tape at bit rates of up to 28.8 Mbps in the HS mode using the MPEG-2 codec (slightly modified version of the MPEG-2 codec used on HDV tapes). Standard Definition video quality ranged from video that looked a little better than current streamed SD video in the LS5 mode, up to better than DVD's highest-quality in HS mode.
Unfortunately, tapes recorded on a Mitsubishi D-VHS machine can not be played back on a JVC D-VHS. I only have JVC decks here, and at the moment, transfers of Mitsubishi recordings are unavailable. Also I can only transfer NTSC recordings.
Also, because of changes in computers over the years, D-VHS's MPEG-2 codec does not "play nice" with a lot of computers running any operating system made since Windows XP. I'll try transferring by Firewire first, but most of the time I end up using Component Video to transfer D-VHS recordings. Component Video is analog, but it can handle both Standard Definition (480i/p) and High Definition (720p/1080i) video.
Foreign Conversions

Click here for a list of countries that used the various TV standards.

Trevor Thurlow Productions is able to transfer all NTSC and PAL/SECAM SVHS/SVHS-C recordings. While SVHS decks and camcorders were sold in SECAM regions, these machines would receive SECAM, but then convert it internally to PAL, and vice-versa on playback; therefore I am able to transfer SVHS recordings made on equipment sold in SECAM regions, such as France, Russia and Egypt, as these are just PAL recordings. I can convert PAL SVHS to NTSC DVD, and NTSC SVHS to PAL DVD.
D-VHS is only available in NTSC. PAL D-VHS transfers are currently unavailable.
How To Request A SVHS/SVHS-C/D-VHS Transfer
Please fill out the form at the bottom of the page and I will get back to you within 2-3 days. Please be advised that I will not be involved in blatent copyright piracy. Transfers of copyrighted videos will need a letter from the copyright holder saying that it is alright to transfer them. So I will not transfer copyrighted videos, such as "Star Trek The Motion Picture".
Transfers To DVD
All DVD transfers use Verbatim AZO DVD-minus-R discs. I've used Verbatim for many years and these discs are, by far, the best discs.

Transfers To Video Files
Options include transfers to MP4 and DV-AVI/DV-MOV on USB stick or Uncompressed hard drive.

Transfers To Other Tape Formats
Options include NTSC/PAL SVHS to NTSC DVCPRO, MIni-DV and Betacam SP.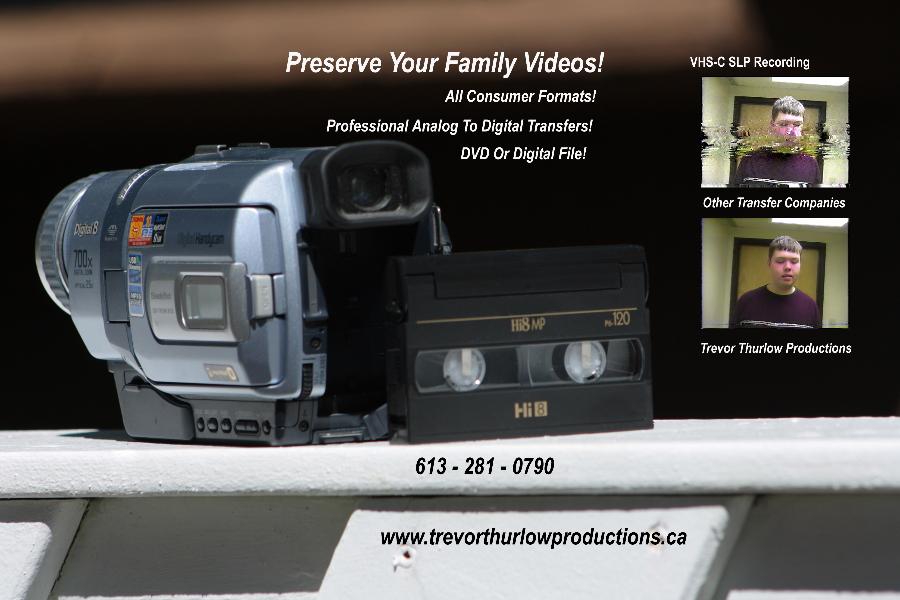 Transfer Your S(uper)VHS & D-VHS To DVD Today!
Return To Video Transfers

Trevor Thurlow Productions takes your privacy very seriously.
None of your information is passed on to other companies.
Canadian residents please note that the appropriate tax shall be added to your total.

For more information on video transfer and video production services, please go to
www.trevorthurlowproductions.ca/transfers
Copyright 2012-2021 Trevor Thurlow Productions